Coffee stains are one of the most stubborn stains, the fight against which requires not only great experience, but also the right set of cleaning products. Carpets, carpets, other floor coverings and upholstered furniture are especially affected by such pollution. Cleaning a studio apartment from MS Clean may require the removal of coffee stains on various surfaces. Knowing how to remove a coffee stain from a carpet is important not only for professional cleaners, because absolutely anyone can face this problem in everyday life.
How to get coffee stains out of carpet
Our recommendations concern two aspects - the choice of means, as well as the cleaning technique itself. So, there are several options for how to remove a coffee stain from a carpet:
Take glass cleaner and mix with water 1 to 2. The resulting mixture must be applied to the carpet, then covered with a cotton cloth. After that, you need to take the iron and iron the fabric. Thus, the coffee stain will gradually move to the fabric and leave the carpet villi.
Mix a tablespoon of liquid soap with the same amount of vinegar, and place the resulting mixture in a container filled with two glasses of lukewarm water. Dip a hard sponge into the container and begin rubbing the stain vigorously until it disappears. After that, you can walk on the surface with a dry rag or sponge and wait until the carpet dries.
Mix 0.5 liters of water with approximately 70 mg. lemon juice. The solution must be applied to the carpet surface and kept for 15-20 minutes. After that, it is carefully removed with a damp cloth.
If the surface is white, bleaching agents and stain removers for clothes can be used. They must be carefully applied to the pollution, and after 15 minutes, rinse with warm water.
Glycerin, vinegar, ammonia. In strong concentrations, these substances are also used as an alternative to professional dry cleaning. However, it is still impossible to achieve a completely equivalent effect.
Highly carbonated mineral water can also be used as a stain remover. It should not be cold or too hot. The carbonated water bubbles push the pollution molecules up, so this technique can be used as a preliminary to others.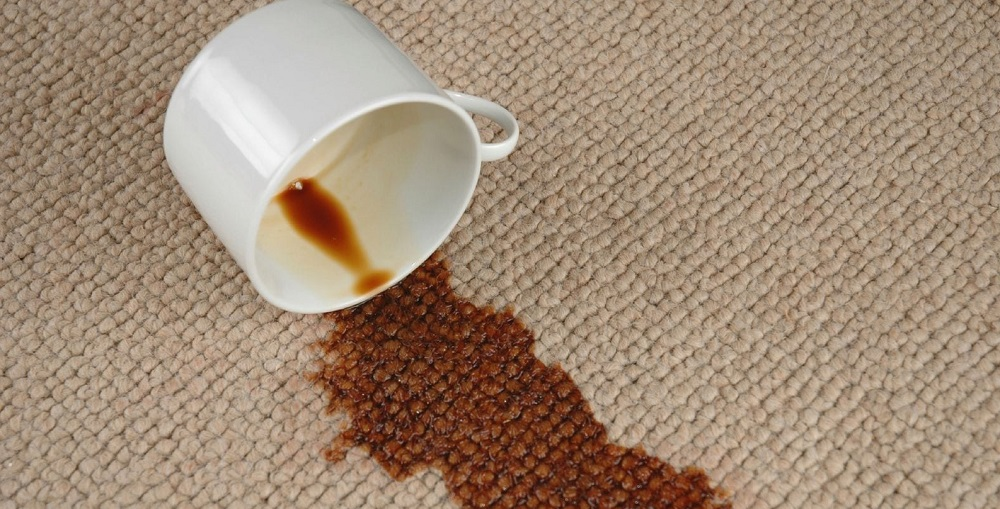 The main advice that you should follow when starting to clean up such a difficult pollution is to start it as soon as possible. If the stain appeared on the surface more than 24 hours ago, professional dry cleaning is no longer enough, so you should immediately contact a cleaning company.
What not to do?
There are also several rules, the violation of which can threaten hopelessly damaged floor surface.
Never try to rub the stain as soon as possible. This will lead to even greater depth and area of contamination.
Do not delay with cleaning: immediately either call the cleaners or start on your own.
If the carpet material is natural wool, never use hot water for cleaning.
Do not use harsh chemicals, especially if they are not suitable for your material. The chemicals can eat away at the fibers of the carpet, and even if the stain is removed, the carpet will be damaged.
Moreover, if the pollution is strongly ingrained, or you do not have the proper experience or the necessary chemical and technical means, it is always better to seek help from professionals. This is especially true for surfaces made of silk, or other delicate material - in this case, the likelihood of permanent damage is extremely high. Ms Clean's cleaners know perfectly well how to carefully clean coffee from a carpet or any other surface, and also provide a full range of cleaning services for apartments and other premises. They also carry out cleaning of medical facilities. Specialists are ready to leave within an hour after your application.